tomorrow morning i'll be back to melaka..juz to take my final exam for this semester..i'll miss my mum very n very important is my TV...i'll miss many tv programme such as impian illyana,bawang putih bawang merah(dont be shock i watching this programme..hahahha) n many more to listed out...i must concentrated wif my study now..its been two weeks i dont open my books..huhuhu..its gonna be tougher time for me after this..ok i'll tell bout my raya...i just came back from melaka bout 4 days before raya..it was very excited..i drove from melaka wif udin..not me drove the car but udin does it coz im sleepy that time..but i still cant sleep when he driving huhuhu..thanx dear..take my sis at segamat and her friend which was our grandma neighbour grandson..and then wait for my bro at klang..before that me,my sis and her friend watching movie at tgv at jj bukit raja..we have to wait him there so why dont we watching movie 1st..we watch ROB-B-HOOD..starring by jackie chan..very funny movie..but unfortunately when we watching that movie,all of viewer is chinese..so they can eat popcorn,we cant..my sis really "membara" that time..huhu..like my mum said,"tu lah sape suh g tgk wayang bln2 pose nie..padan muke korg"...then finished watching that movie,take my bro n going back to taiping..before that we break our fast at elmina which we ate the mcd we bought earlier there..perform our prayer..n then TAIPING HERE WE COME!!!huhuhu..reach taiping at 11.30 pm..jammed near tjg malim maybe..really tired..get some nice sleep..next morning have my facial treatment..i swear im not gonna be there again..it hurts maaa..then going back..help my mum cook..later that evening we heading to parit buntar to opah house..break our fast there..have some chatting there..n then back to taiping again..on sunday,just get clean of my house..n then heading back to my opah house again..break our fast again there..wif all of my mother family..very happening..cos all 19 people there..very noise,very happy...huhu..when we gonna break our fast its really happening..coz everyone fighting with each other to get the lauk..huhuhu..after that have a chat wif the others..i sleep there wif my sis and bro...my mum go back to our house..near there also..the next day more happening..all of us cleaning my out opah house,cook rendang together,made ayam golek 1 family 1 chicken and many more..i'll miss that..then,we break the last fast with happiness and noisy..until my grandpa said,"hangpa nie xleh mkn diam2 ka..cuba lah diam sat waktu bukak posa nie.."huhuhu..quiet for a while..then back to the nature...hahhaha..at night raining,so all of us just in the house watching some tv programme n sleep..huhuhu..on the raya day, 1stly before perform prayer salam with my parents and get duit raya..huhu..perfom raya prayers..n then gathering back at opah house..salam with each other..n much more important duit raya..this year my duit raya is more because my bro n ayong have to give us duit raya..both of them already have job n they have to give us duit raya..hahahha..then, we take family picture..n then heading to our realtives house until evening..really tired coz i ate so many things..i think all the houses i visited, i will ate something..all that house i visit have something different to eat..so i must eat..huhu..i think i'll put up some weight now..huhu..later that night still raining and we ate pizza..huhu..we make a collection from all of us and we ate pizza..then have really nice sleep..next morning, 2nd day of raya, my family heading to relau..which there we met my father family..all of my uncle there accept paksu which he stayed at sarawak..so he and his family dont come back for this raya..we stayed there until evening n heading back to taiping back..rest..on 3rd day of raya..heading to klang..sent my bro back..until nite reached home and sleep..4th day of raya..heading to penang..overnight there at mama's house..on saturday, went to tesco penang..mummy spent us chicken rice shop...n im very full there..went back to taiping..rest..on sunday..just rest at home..on monday, my sis going back to segamat with bus..and im all alone in that house..huhuhu...and all im doing this week is nothing..zero...thats why im scared of my 1st paper on this monday..it is STATISTIC&PROBABILTY exam..even im studying this topic for 3 times i think..i still can manage to score it..phewh...its too long i think my updates..thats all folks..
one happy family of md isa saleh and hatijah othman
a luvly couple...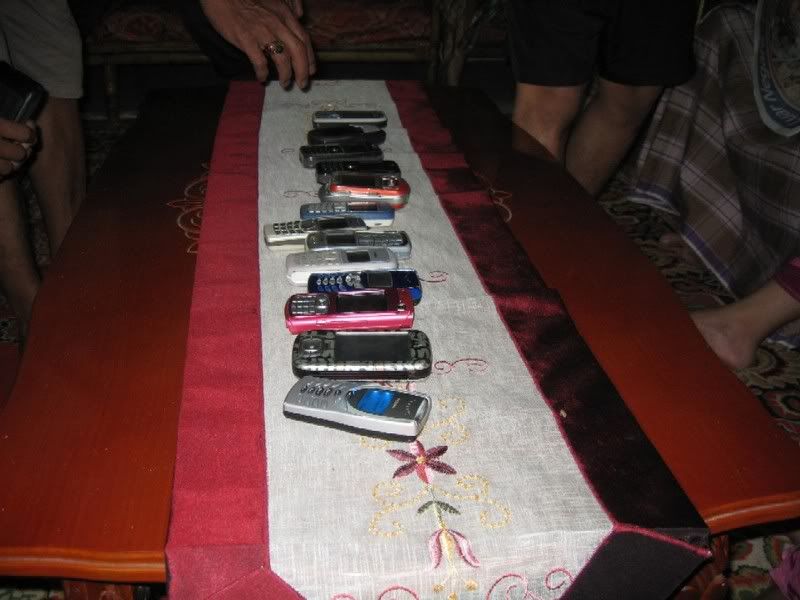 banyak nyer hp...
takbir raya beramai-ramai...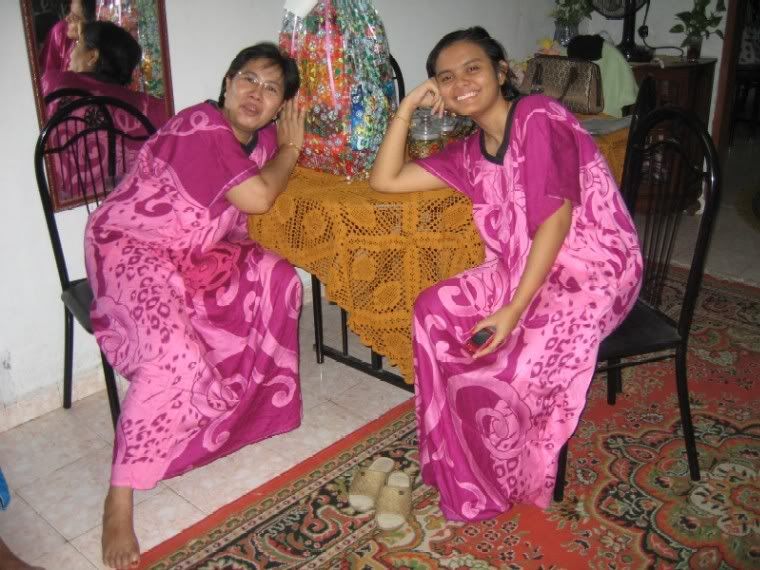 kembar siam..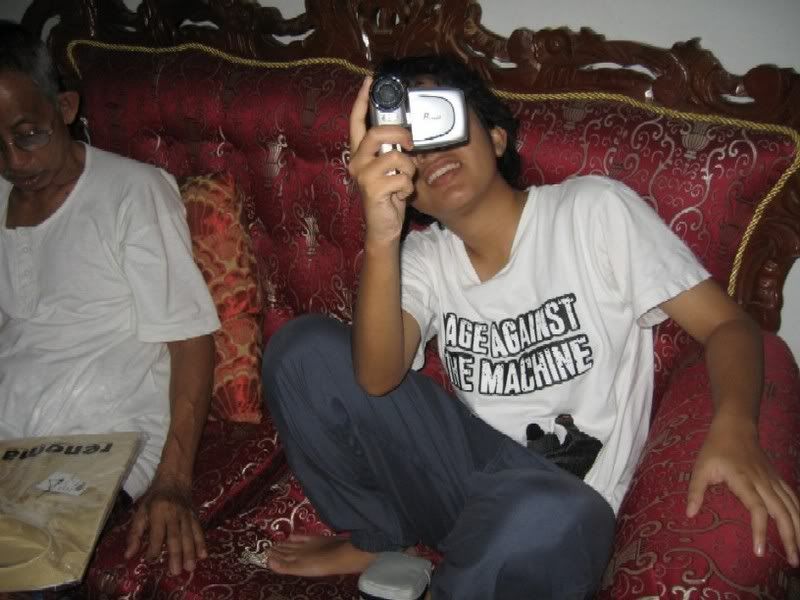 amik gmbar sape tue??!!!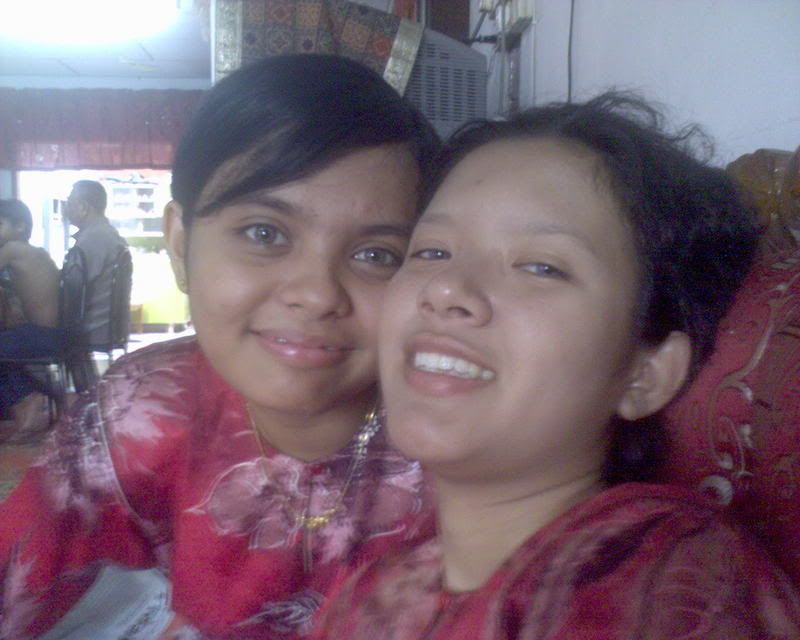 me n my sis...