Dear friend,
After finished with Talent Day, we have to participate in Community Service (CSR)..actually there is Teambuilding module for 3 days on that week..but I don't have the pics for that module..Teambuilding module I can't bring the camera because it occur outdoor session such as jungle tracking (from teluk rubiah to teluk batik oke..), making a raft etc..and I love all the session except indoor session..a bit bored..hahaha..
Okay enough bout the Teambuilding module..now, CSR event..it held at Kampung Telok, Ayer Tawar, Perak..before the event started, I've been to that kampung for 2 times..I being representative for my company Head of Administration..this event are conduct by Head of Administration and Head of CSR each of company..this kampung really peaceful and I like it..our company has to do Community Development for that kampung..so, ketua kampung choose 10 house and we have to clean up or have a nice chat with them..here some pics on the event day..
our arrival..
Community Developement group pic..
Community Developement..
motivation session by Deep Sky..
Gotong royong..
lunch time..
Photographer gang..hehehe..
Nan
..
craft session..
Closing Ceremony..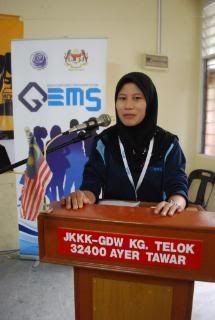 The emcee for Closing Ceremony..
Closing Ceremony Comittee..
One of the adopted family..
Our Community Development session doing great and smoothly..after CSR we have to participate Carnival Day..this event is occur on the next day of CSR..yes, all of us are tired but we have to do it..huhu..